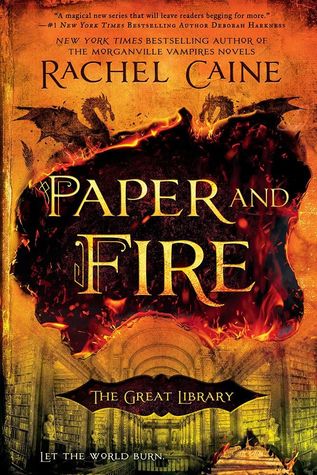 Synopsis:
4 out of 5 stars
In the second installment of the Great Library series, we pick up where we left off. All of the former postulants and Scholars-in-training are now six months into their contracts. Jess serves as a soldier in the High Garda, Glain is the leader of Jess's Squad, Khalila is a gold band, high ranked researcher of the Library, and Dario serves as a slightly lower ranked Library official. Each of them is working extra hard to stay in the good graces of the Library, which is no easy feat. Jess has reason to believe that Thomas is not dead.
SPOILER ALERT:
He's not dead. Instead, he is being held prisoner by the Archivist and is forced to develop new technologies that will benefit the Library.
When Jess finds out that Thomas is indeed alive, he tells his friends and gives them two options: help him break Thomas out of a prison he doesn't yet know the location of, or continue to blindly serve the Library. Which to be fair, let's admit that if anyone had chosen the latter, they would have made themselves look bad. As expected, each of his friends chose the path to justice. Truthfully, I knew Thomas was alive, I just knew it! So I wasn't exactly surprised when Jess found out he was alive, in prison, but (mostly) no worse for wear.
I really enjoyed this series, the first two books of it at least. It's very different from what I usually read and very original. One of the best things about this series is the writing, if not the best. If the story was the worst piece I had read and this author wrote it, I would read it. That's how good her writing is, honestly. When I first picked up the first book Ink and Bone I was drawn to it because it was about valued books! How could I not pick it up? Admittedly, I didn't expect to be so taken up the story and the characters as much I was. Buts a lesson to be learned, never judge a book before you even read it. Sometimes synopses are vague aren't very insightful in terms of what you're getting yourself into. As was the case of this book.
I don't know if I mentioned this in my review of the previous book, but the playful banter that passes between the characters is the best. They act like family, they consider themselves family. This book primarily takes place in Alexandria, as it did in Ink and Bone. Later the story moves briefly to Venice, Italy and then it returns to London. I've been to two of the three places this book was set in, Alexandria and Italy. And while the descriptions of the surroundings for latter were not exactly the surroundings I'd experienced, it's important to remember that this series is 1) set in the future and 2) set in an altogether different world. It's so fascinating how authors can make a place sound so appealing that end up wanting to visit.
The Ephemerals strategically placed at the end of every chapter served as both advantageous and the opposite. Advantageous because 1) you're well informed about the world in which the characters live, 2) you're better braced for any twists in the plot, because then you know to expect something to happen that has to do with the discussed subject in the Ephemera. The disadvantages/cons include 1) sometimes their downright misleading, 2) you get confused because you don't exactly know what to think after reading one. Ultimately though, the Ephemerals were good guides. Without them, I don't think I would have enjoyed or understood most of the circumstances as well as I did with them.
I am SO glad the author decided to just stick with Jess's perspective in this series. If we'd been following multiple POVs, I likely wouldn't have known who was thinking most of the time. The story line is intense enough to follow on it own with the complications of the character confusion. Overall, I enjoyed this book immensely and cannot wait to see what's in store for us in the world of The Great Library in what I presume will be the last installment in the series.