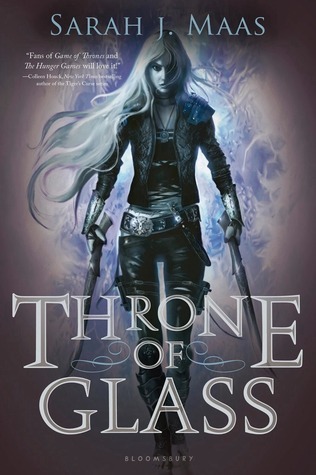 Synopsis:
3.5 out of 5 stars
I had this book on my to-read list forever, and when I finally bought it, it sat on a stack for a few more months. Which was through no fault of mine (lies) I had many books to read before I finally got to this one. (I purchased more books while this one sat, and if that's not enough, I then read the books I purchased) This book was good! I didn't know what I was missing until I finally read it.
The characters: Celaena Sardothien is a badass. Not only is she an assassin, she's Adarlan's most feared assassin. That seemed like a likely title at the beginning of the book, when I wasn't quite acquainted with her. However, as the story went along, the possibility seemed less and less likely. While she can be violent and aggressive when she wants to be, but truthfully, she wasn't that intimidating. I have a hard time believing she's Adarlan's fearsome assassin. I mean, I liked Celaena, but she didn't exactly live up to my expectations. Before being taken to court to compete in the competition, Celaena served a year at Endovier, a death camp. She endured so much only to be dragged back to the King's Court to compete for a position as his own personal assassin.
Celaena was a little hard to understand. Chaol couldn't have said it better, she's a girl full of contradictions. She's the world's most notorious assassin, who was not only trained by the King of Assassins, but she spent a whole year at Endovier- lived in the worst conditions possible, yet she cringes at thought of handling a mace before sunrise, couldn't bear the possibility of walking out into the competition wearing "absurd" looking tunic and pants. What did she want to wear, a dress? By the way, isn't hiring an assassin supposed to be a private affair, not one broadcasted through the entire court? Sure, the King invited a select few to watch the competition, but doesn't news travel especially fast in your typical King's Court? Captain Chaol Westfall was definitely my favorite of Celaena's two love interests. He's just the more likable of the two. Dorian was alright.
I felt that the romantic aspect of the book almost completely overshadowed that of the action. I found myself worrying more about whether or not Celaena would end up with Chaol than her potential death. Also, for an assassin, she didn't do much assassinating. But that's probably because she was at Court and that wasn't exactly what she was supposed to be doing there anyway. Although, there were quite a few individuals whose existence warranted assassination. THE KING, Katlain (I'll get to her in a second), Cain (*spoiler*), and half of the competitors. Katlain was an understandably frustrating character. Her POV was unnecessary, I felt. I did need to know if someone was going to try to assassinate Celaena, but we didn't get Caine's point of view, did we?
The writing: This was the first of Sarah J. Maas's books that I've read, and while the writing wasn't bad, it certainly wasn't the best. I was a little bothered by the overuse of exclamation points. Even a phrase as presumably quite as "everybody's asleep" could have been accompanied by an exclamation point. But that was an annoyance I quickly ignored, though honestly, I don't know how I did it. Stuff like this usually infuriates me to no end.
One last thing:
But why? I understood the innuendo far too late. Did the author even intend for this to be an innuendo? Maybe I read into it wrong. But no, I couldn't have. Could I? I'm going to read the next one now. Bye.